Agriculture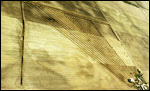 More than a billion feet of ADS corrugated polyethylene pipe have been installed in American farmlands for field drainage, soil moisture control, and stock ponds. There is even a specially perforated pipe series for grain aeration. Farmers choose polyethylene for its ruggedness in all temperatures, easy installation, low cost, and long service life.
Agriculture Drainage Resource App
The ADS Agricultural Drainage Resource is a complete tool to help you determine all of your drain tile needs. You are able to calculate acres drained, using both single and dual wall tile, calculate pipe diameter needed to drain your desired acreage, the amount of pipe needed for a job and the cost you can anticipate, and slope. Additionally, you can determine the lift station size and configuration needed, and ADSí unique G.R.O.W. Analysis helping you make the best decisions for your land. The app also gives you the ability to save your calculations with unique names for easy reference at a later date.